Every Network Hero Needs a Map
With NetBrain, a map is your single pane of glass for all your network data.
Compare Three Generations of Network Diagram Software

Network Map Software for Dynamic Networks
Don't get left stranded by static diagrams. Create a Dynamic Network Map on the fly in seconds. Built from live network data, they're always accurate, always up to date. Drill down into infinite details with one click — anything from OSPF neighbor relationships to firewall failover status. And Dynamic Network Mapping software can update automatically whenever your network changes.
"To manually draw out a network map takes at least a couple of hours, where NetBrain can do it in ten minutes. It's a huge time savings."
– Network Engineer Lead in the Healthcare Industry
Get the Right Map for Any Task in Seconds

Need to disable an infected server? Map the server and the switch it connects to. Need to troubleshoot a routing issue? Just search keyword "OSPF" to map all OSPF-enabled devices instantly.

Map Any Path in Seconds, From Point A to Point B

Network maps show the actual live L3 or L2 path between any two endpoints in seconds so you know exactly how an application is flowing at any given moment, to troubleshoot accurately.

Visualize Infinite Detail Right on the Network Map

Getting to your network data used to mean digging through the CLI manually, or jumping from screen to screen. Now you can dynamically turn on and off any data from all sources in one place with our network mapping tool.

Auto-Update Your Mapping When Your Network Changes

You probably don't have time to document every change — even when modifying a single interface causes an entire routing domain to change. Dynamic Network Map software can update automatically.

Visualize Network Problems in Real Time

What do you do if there's a network outage or attack in the middle of the night? With our APIs you can trigger NetBrain to automatically create a map of the problem area and analyze key data.

Share Findings Through Network Maps

Poring over a colleague's log files or data dumps can be back-breaking. Dynamic network maps streamline hand-offs and make it easier to share information because all collected data is recorded right there.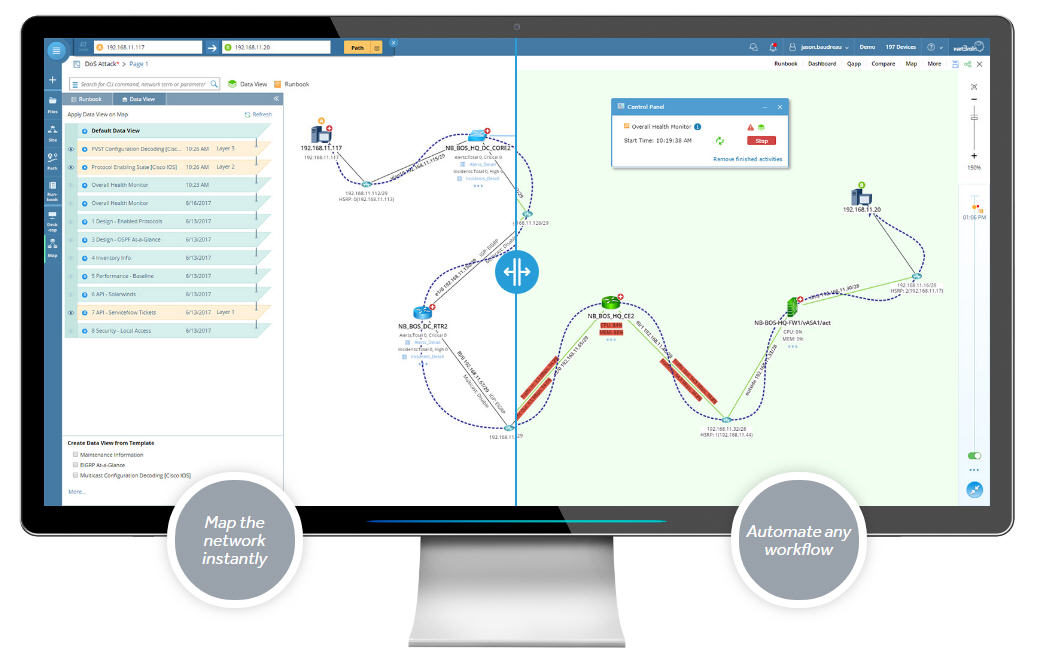 Real Impact. Proven Results.
Learn and grow with a thriving community of network pros.