Enhanced File Transfer™ (EFT™) delivers secure and efficient data exchange for any organization
Globalscape's Enhanced File Transfer (EFT) platform enables business partners, customers and employees to share information safely and securely. Unlike traditional file transfer software, this managed file transfer solution provides enterprise-level security, while automating the integration of back-end systems. EFT features built-in regulatory compliance, governance, and visibility controls to keep your data safe.
It replaces insecure legacy systems, homegrown servers, expensive leased lines and VANs with a top-performing, scalable alternative. Administration is easy, yet detailed enough for complete control of your file transfer system.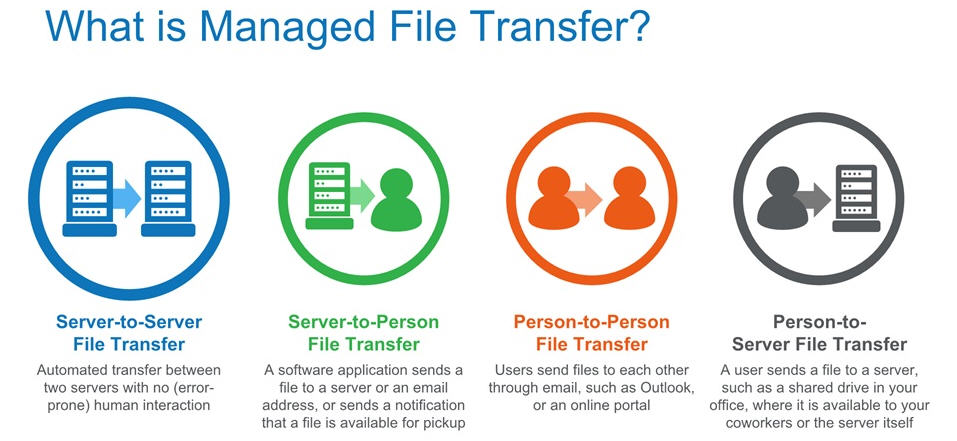 Compare features below to find exactly what you need, or call us—we're here to help!

 Included     

 Optional     

 Enterprise Only
Features

EFT SMB

EFT Enterprise

Tier
1
Tier
2
Tier
3
Tier
1
Tier
2
Tier
3
Core Server Features
FTP Core Server
SSL/TLS & Certificate Management
Authenticate users against internal or external data sources
Active Directory authentication including user impersonation
Resource & access controls (disk quota, mac connections, etc.)
Secure remote administration of settings & users
Execute a process or send an email based on the triggering of an event
Future proof: IPv6 and Windows Server 2012 Gold Certified
Security policies and controls
Run on virtual machines (VMware, Hyper-V, XenServer, etc.)
LDAP Authentication integration
Delegated administration to limit admin control
Backup and restore configurations easily with a single click
SFTP Module
SFTP transfers
SSH Key-based Authentication
High Security Module (HSM)
Active monitoring and alerting of PCI DSS violations
Run PCI DSS compliance reports
FIPS Compliant Libraries
Advanced security including data sanitization (wiping) and idle account cleanup
Basic HTTP/HTTPS Module
HTTP/S transfers
Mobile Friendly Web interface
Use Web Services (WS) calls to invoke workflows
Web Transfer Client (WTC) – included with HTTP/S Module
Number of Licenses Included
No
Limit
No
Limit
No
Limit
No
Limit
No
Limit
File Transfer integrity Checks
Session Transfer Queue
Resume, Stop, Start Transfers
Drag and Drop interface
Workspaces Module
Number of Licenses Included (EFT Outlook Add-In for Workspaces)
50
100
Ability to share EFT folders with colleagues or external partners easily via
browser and EFT Outlook Add-In (Ad hoc, person-to-person file transfer)
Mobile Transfer Client (MTC)
Number of Licenses Included
99
249
99
249
499
Android and iOS Mobile Apps allows for data synchronization
Mail Express®
Ad hoc, person-to-person file transfer (Mail Express Outlook Add-In)
25
100
OpenPGP Module
Encrypt, decrypt, and sign data with OpenPGP
DMZ Gateway®
Add an additional security layer by using a reverse and forward proxy
Single
Site
Multi
Site
Multi
Site
Business Activity Monitoring (BAM)
Business Activity monitoring dashboard and analytics
Business Activity Portal for external partners and users
Audit & Reporting Module (ARM)
Audit to SQL Server and run reports
Audit to Oracle instead of SQL Server
Content Integrity Control (CIC) Module
Integration with Antivirus (AV) and Data Loss Prevention (DLP) using ICAP
AS2 Protocol Module
Send and receive EDI documents using the AS2 protocol
Automation
Schedule automated workflows on a recurring basis (Timer module in SMB)
Copy/Move files (File Transfer Client module for SMB)
Download/Upload files (File transfer Client module for SMB)
Monitor folders cleanup of target folders (Folder Monitor module for SMB)
Monitor inbound and outbound file transfers in real time
Data retention/cleanup policies for targeted folders
Advanced Workflow Engine (AWE)
Build advanced workflows and pick from over 200 automation actions,
including XML/CSV parsing, database connectivity, SNMP, web services, etc.
Accelerate Module
The Accelerate module for EFT Enterprise enables high-speed transfers
over high latency networks using a patented technology over UDP.
Advanced Authentication Module
RADIUS, RSA SecurID (Two-Factor authentication)
CAC authentication
SMS authentication
SAML (Web SSO) authentication
Insight module
Business and operational intelligence platform providing visibility into server health, file transfers, event rules, and compliance
Remote Agent module
Provides centralized control for automating transactions from distributed systems; automate interactions between branch offices, point-of-sale terminals, business partners, field agent laptops, or other remote systems and your EFT server residing at your corporate office.
Cloud Connector module
Quickly connect to AWS or Azure storage moving data from on-premises to the cloud or from EFT in the cloud to a separate instance of cloud storage.